I'm thrilled and excited to announce that my new eBook is alive! It's called "30-Day Green Smoothie Challenge for Busy People." In a nutshell, it's just like my last green smoothie challenge, but totally different.
This 57-page eBook includes:
New and reworked chapters
All new green smoothie recipes
Updated ingredients shopping lists
Utilizes ingredients that are readily available worldwide/year-round
Heaps of innovative smoothie-making tips and tricks
Coaches you on how to take fewer grocery store trips
Instructs you on how to batch blend smoothies
Helps you reduce food waste, while making green drinks that are finger-lickin' good
Slashes cleanup/preparation times in half
If you've ever made the excuse that you don't have time to make a green smoothie, this book is for you.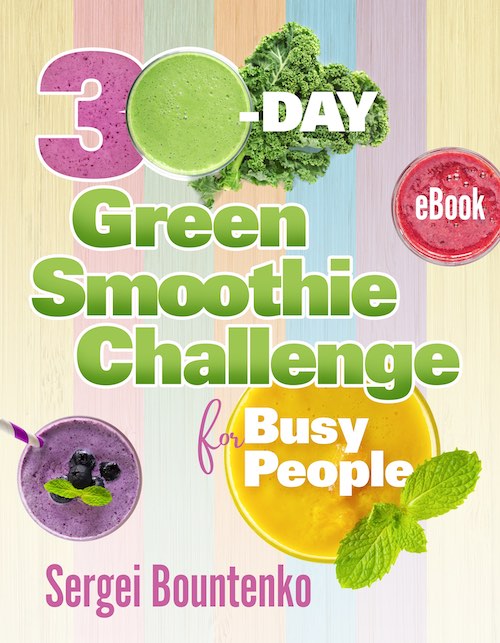 30-Day Green Smoothie Challenge for Busy People combines the same great protocol as before, but with different recipes, new/updated chapters, and more! Drastically improve your health one mason jar at a time. Please note, this is not a fast. You will not be instructed to stop eating food. Instead, you'll be encouraged to add a quart jar of smoothie to your established daily routine. This challenge is very doable and you can start any day you please!
Get the 57-page eBook for $15 below.
Update 8-1-2020: The satellite YouTube video is now online!
30-Day Green Smoothie Challenge for Busy People the film is now available on YouTube. Why make two products with the same name? Good question. A film is a great medium for conveying a wide scope of information quickly and visually. These qualities make videos fun to watch and easy to digest. Movies also help visual learners grasp information better. Being a visual learner myself, I find it my duty to appeal to this demographic.
Books on the other hand, are fantastic vehicles for laying out more complex, technical information in a straightforward and manageable fashion. Text allows readers to dive deeper into course material, jump around concepts easily, re-read parts that are confusing, and is generally better for delivering recipes and ingredients shopping lists. I think the topic of smoothie making deserves both these mediums, thus, I make a focused effort to publish both eBooks and videos for my green smoothie challenges. My hope is that my film will act as a fire starter to get you excited about making fresh smoothies regularly and that the supplementary eBook will give you the necessary tools to reach your health goals.