I've always craved a toned body and high level of fitness! After looking at countless before and after photos on the web, I became curious to see if I too could achieve my dream fitness goals by following a no-gimmick exercise and diet protocol. At age 30, I noticed my metabolism slowing down, my weight increasing, and the temptation to get caught in life's bad habits (eating out, drinking, and living a sedentary lifestyle) intensifying.
Instead of yielding to these pressures, I hired a film crew and decided to use myself as a guinea pig in a fitness experiment. Over the months that followed I learned how to exercise in a safe, effective, functional fashion, rediscovered the joys of healthy home-cooked meals, and achieved some note-worthy results (lost weight, burned fat, gained muscle, and got abs).
With my film titled: "I Want Abs," I want to share my findings with the world and motivate others to follow in my footsteps. If you're someone who wants to get in shape but don't know how to do it, I Want Abs is for you! 
Update 2018: I Want Abs is now available on YouTube!
More info about I Want Abs:
We filmed for 4 months. During that time, I was able to:
• Drop 18 pounds of excess weight & shed inches off my waist, thighs, hips, & neck
• Gain 11.5 pounds of healthy muscle
• Lose 12.5% body fat
• Substantially increase my stamina & core strength
• Form good eating & exercise habits
• Grow a hearty beard
In addition to the physical changes, my mood improved significantly while training. I'm generally a happy person, but once I implemented a consistent workout routine and tweaked my diet, I noticed a drastic positive shift in my attitude toward life and self-worth.
I also came to several realizations:
• Getting in shape is a simple formula. Good program design + consistency = results.
• A body is a very adaptive machine.
• It's just as important "when" you eat as "what" you eat.
• Investing in yourself by means of diet and exercise, is the best investment you can make.
• Choosing healthy habits over unhealthy ones is an act of self-love.
Want to learn more? Read my comprehensive eBooks!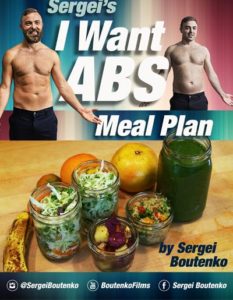 This 61-page eBook describes my current diet protocol. This meal plan is the exact same one I followed during the making of my 2015 film titled: "I Want Abs." All calories aren't created equally. Stop starving yourself. Instead, eat good food and get results.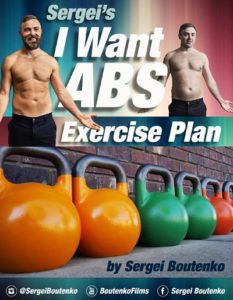 This is a comprehensive 70-page eBook about the exercise routine that I followed during the making of my 2015 film titled: "I Want Abs." This eBook is a culmination of tried-and-true experience, expert opinion, and 15+ months of fitness research.
Want to see how I train? No problem!