Most new vans don't come with a lot of extra storage space. While you can design and build various closets, drawers, hampers, and baskets for your vehicle, doing so takes considerable money, time, and effort. If you're searching for quick and simple storage ideas that will help you go adventuring sooner, look no further. I've pondered on this subject for years and have uncovered three solutions that are perfect for van life. These van storage hacks are quick and easy to install and cost substantially less than any products offered by modern van outfitters. Best of all, these storage options are suitable for Sprinter vans, Transits, ProMasters, and beyond! So, without further ado, let's get organized.
Storage Solution #1 Ikea Sortera Bins (DIY Budget Option)
Ikea, AKA Swedish Walmart, makes a durable plastic bin called the Sortera. The Sortera is made in two different sizes, it comes in 10 and 16-gallon versions. If you're a van lifer, the smaller 10-gallon bin is the one you want to buy. This 10-gallon bin fits perfectly under the back seat of a Sprinter van. You don't even need to purchase a lid for the bin as it won't fit under the seat with it anyway.
Once you wedge the Sortera under the seat, you'll be able to securely store small to medium sized objects and/or random van junk in the tub. Best of all, the baskets only cost $10 a piece! I spent $20 on a couple of these plastic hampers and instantly and substantially increased my Sprinter van storage without touching a single power tool. How's that for a life hack?
Sortera bins are sold at Ikea. You can also buy them on Amazon, but they cost more there.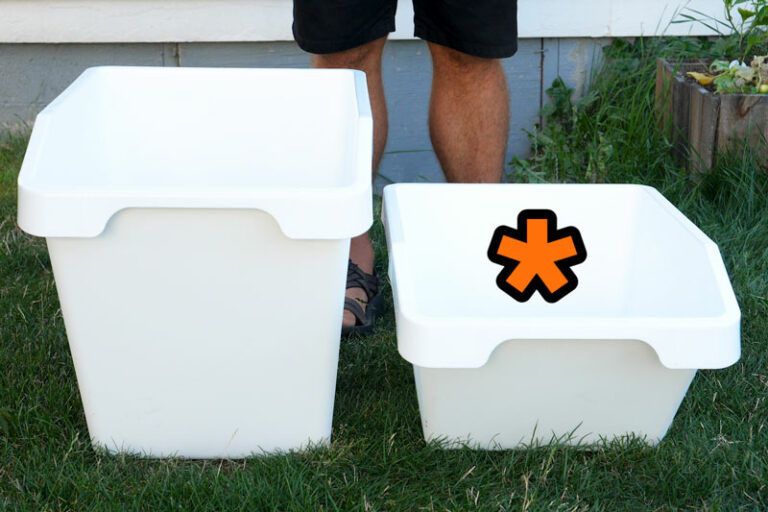 Storage Solution #2 Envelope-shaped Cargo Nets (DIY Budget Option)
I am not a skilled carpenter by any stretch of the imagination. However, what I lack in building skills, I make up for in creativity. While constructing my first homemade van conversion, I was having trouble figuring out how to add storage to my vehicle without building complex drawers. As luck would have it, I accepted a ride home from a friend and noticed that her Subaru was equipped with trunk cargo storage nets. Trunk storage nets are envelope-shaped nets that attach to four anchor points. Once installed, drivers can place miscellaneous items inside these nets to prevent them from sliding around while the vehicle is in motion. When I saw how such nets function, I instantly recognized their application for vans and van life.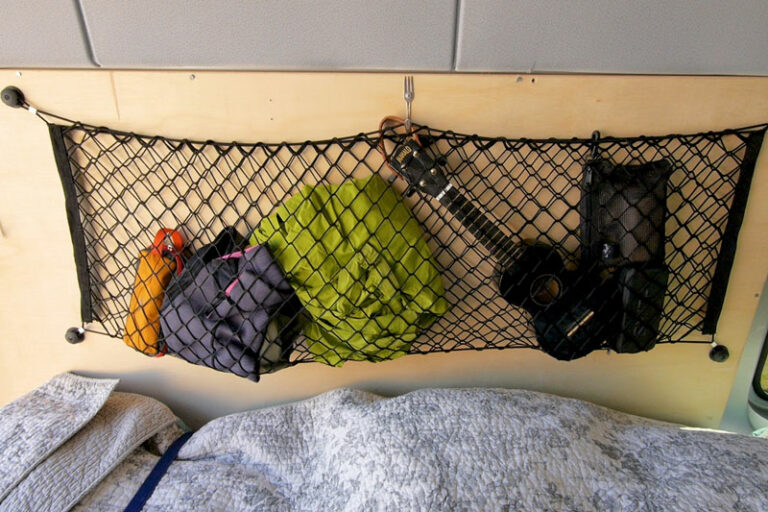 Long story short, I installed a cargo net on either side of my van bed to hold extra clothes and other soft goods. For van conversion 2.0, I added a third cargo net horizontally under my loft bed for storing more miscellaneous stuff. This addition allows me to easily access certain items such as hats and gloves when I'm gearing up for outdoor activities. Furthermore, since all nets are made of holes, and holes enable excellent ventilation and air flow, this new storage area allows me to effortlessly dry wet clothes.
Like most things, envelope-shaped cargo nets are sold on Amazon and retail for around $10 a piece.
Storage Solution #3 Back-seat Organizers
Now that I've discussed two low-tech options, let's switch gears and talk about a slightly more expensive storage solution called the "back-seat organizer." A back-seat organizer is exactly what it sounds like, it's a special pouch that hangs off your car seat and enables you to compartmentalize various items. Such bags are not only useful for keeping your stuff in order, but they also help reduce floating clutter and make your vehicle safer as a result. Over the last six years I've tried half a dozen different back-seat organizers. My favorite products are made by Overland Gear Guy.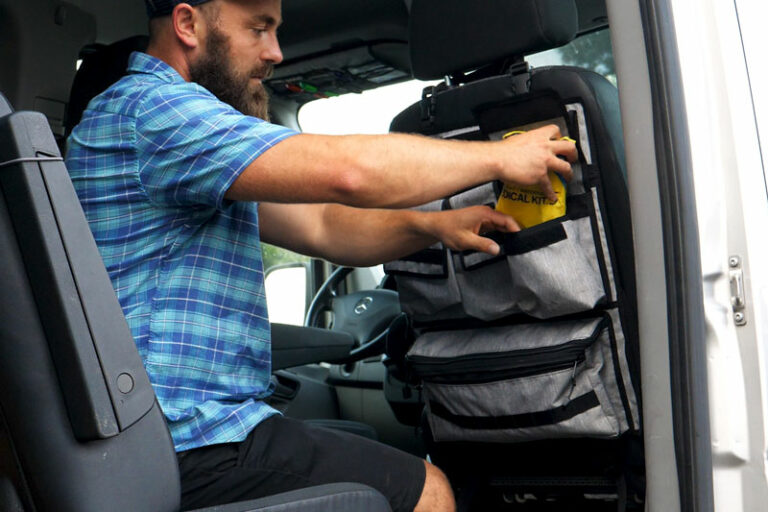 Rob, the owner of the company, spent over 20 years working as a law enforcement officer, firefighter, and EMT. He then took his skills and know-how outside of those industries and applied them to overland vehicles. As a result, Rob's company now produces a wide array of finely constructed, durable, and ridiculously practical vehicle organizers. My Sprinter van is currently equipped with three different Overland Gear Guy pouches and I couldn't be happier. If you'd like to see which organizers I chose and how I've set them up, I have a video about exactly that.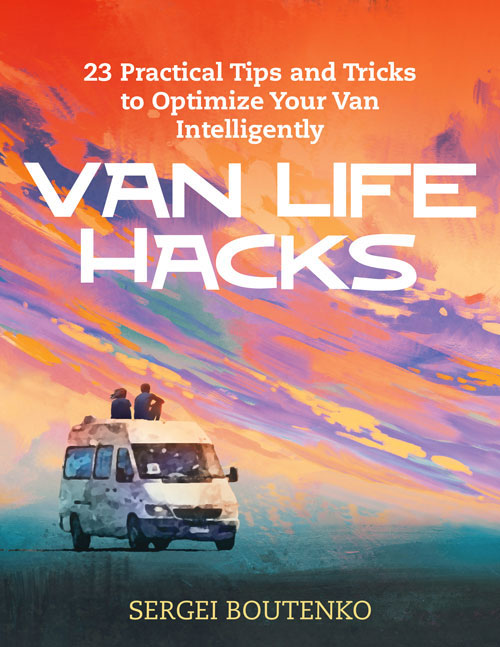 Should you need more guidance, I've written a new eBook containing 23 additional tips and tricks that pertain to commercial vans and van living. Regardless of whether you use your van for work or leisure, live in a van full-time, or aim to camp in your vehicle on weekend, I'm confident you'll find my advice helpful. It's also worth mentioning that I don't only focus on Sprinter vans in the book.
Get the 71-page eBook for $15 below.