In September of 2016 I published a YouTube video on my channel called "SPRINTER VAN CONVERSION: My DIY Setup for Less than $1,200." The video was a big hit. It blew up and remains my most viewed clip to date. If you haven't seen it, here's a quick summary; it's a virtual tour of my first-ever, minimalist van build that discusses some simple/practical design choices (video linked below for those interested). After launching the movie, my inbox exploded with emails. I must've received at least a thousand thank you messages and who knows how many more notes with follow-up questions. Long story short, I understood that people found my thought process helpful.
Sprinter Van Conversion 2.0
Now, three years later, I've decided to release an updated video about van build number two. Hopefully this second van tour will be even more useful to folks that are looking to optimize their current vehicles. Van builds are a personal thing and I don't expect everyone to agree with my designs. Thus, I invite you to treat this video like a CD, listen to the tracks that you like and skip the ones you don't. For those interested in more detailed information about certain products and/or processes, I'm also going to provide a detailed, itemized list of products, supplementary videos, building supplies, and prices below. I encourage you to borrow and steal any and all of my ideas!
Finally, I have a confession to make… My updated Sprinter build cost way more than $1,200 this time around. Van Conversion 2.0 consists of a mixture of budget DIY solutions and luxury items and sits somewhere in the ballpark of $12,000-$13,000 (about 10x more than conversion one). While this figure is significantly less than what most professional van outfitters would charge for a build, it's still a lot of dough to shuck out and I get that. I know that some of my readers will be offended by this price tag. If you're one of those people, please forgive me, it's not my intention to upset you. I'm also not implying that you have to spend huge chunks of money to be happy or content. The sole purpose of this video is to show you how I've set up my new van conversion and if I'm lucky throw some fresh new ideas and solutions in your direction.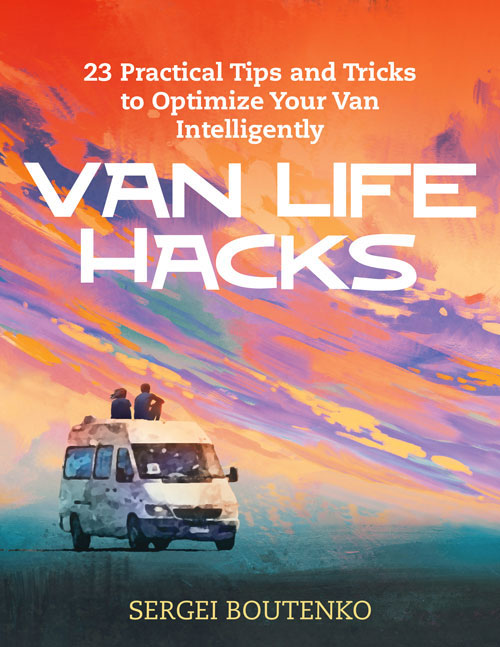 Should you need more guidance, I've written a new eBook containing 23 additional tips and tricks that pertain to commercial vans and van living. Regardless of whether you use your van for work or leisure, live in a van full-time, or aim to camp in your vehicle on weekend, I'm confident you'll find my advice helpful. It's also worth mentioning that I don't only focus on Sprinter vans in the book.
Get the 71-page eBook for $15 below.