The green smoothie challenge starts now! 
I've partnered with Vitamix on an online smoothie challenge to encourage people to improve their health. For the month of September (1-30), I'll be hosting a green smoothie challenge on Instagram @sergeiboutenko. I will be leading the charge by walking my own talk. I'll post a photo of my green smoothies daily (for accountability) and encourage y'all to do the same. If you do, you will benefit immensely!
Oh and did I mention that three lucky, randomly selected participants will win a Vitamix blender? It's true!
This is the exact blender that's up for grabs (x3).
Don't want to wait to win a blender? No problem, get a Vitamix now:
http://www.dpbolvw.net/click-8738261-13084479
Contest Details: 
Three randomly selected winners will receive a new A2500 Vitamix blender. It will be shipped to you free of charge.
Please note: Winners must reside in the USA. I know this sucks, but because worldwide shipping is expensive and power supplies differ across the globe, these are the rules. 
Contest Rules:
1.) Follow @vitamix  and @sergeiboutenko on Instagram
2.) Post a photo of yourself drinking a fresh, homemade green smoothie during the month of September using the hashtag: #GreenSmoothieChallenge2018 (this is how I keep track of who's playing)
3.) Tag two friends in your post to join you in the challenge
4.) One post = one entry. The more you post, the better your chances of winning.
It's literally that easy!
At the end of the month, I'll count all the entries, put them in a random number generator, and select three winners. 
Extra Bonus Points:
All prizes aside, I encourage everyone to complete the entire 30-day green smoothie challenge because it's fun and beneficial to your health. In September, we will all be doing the challenge together. This is the perfect opportunity to find support and accountability from the comfort of your home. 
Regular green smoothie consumption can help you lose weight, improve energy levels, reduce cravings for bad food, and make you feel all around awesome! The new and improved 30-Day Green Smoothie Challenge offers yummy smoothie recipes, detailed ingredient shopping lists, and valuable tips and tricks that will help your healthy habits stick. Give it a try; you won't regret it! 
AND NO, YOU DON'T HAVE TO GIVE UP EATING DURING THIS CHALLENGE! You simply have to add one quart / liter of smoothie to your current diet (whatever that may be).
Ready, set, go!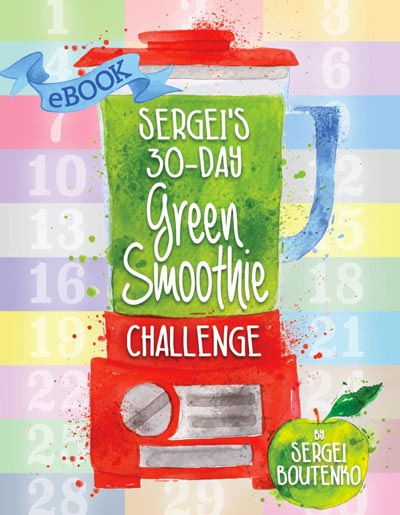 Should you need more guidance, I've put together a satellite eBook, which conveniently lays out every aspect of the challenge. I recommend saving the eBook to your favorite device so that it's always close when you need it. For example, if you save it to your smart phone, you'll be able to access the ingredients shopping lists and smoothie recipes at the grocery story next time you go food shopping.
Get the 41-page eBook for $15 below.