The FAA Part 107 Drone test is hard. Don't take it without studying because you will fail. That being said, it's not rocket science. You can pass the test with flying colors if you know how to prepare. In this blog post, I want to share how I scored 93 percent on the drone exam with only a week's worth of moderate studying. I also want to give you my personal notes (i.e. helpful tips and tricks) that will further improve your chances of success. Let's hop to it!
First, let's cover some of the basics…
Register Your Bird
Whether you're a hobbyist or want to fly commercially, the first thing you'll need to do is register your Small Unmanned Aircraft System (sUAS) A.K.A drone. Registration cost $5 (for now) and can be done directly through the FAA at: https://faadronezone.faa.gov/#/
Please note: there are lots of fake drone registration websites trying to overcharge you and/or steal your money! Before paying any sUAS registration fees, double check that the web address ends in: "faa.gov."
Who Needs A Drone Pilot's License?
Anyone who uses drones for commercial purposes (i.e. makes money from drone photos / videos) needs to get their FAA part 107 drone pilot's license. This includes, but is not limited to: photographers, videographers, real estate agents, folks getting paid for surveillance and/or land surveys, people flying on search and rescue missions, and YouTubers (like myself) who run ads on their videos. Even if you don't currently make money flying drones, but might accidentally churn a profit someday, it's a good idea to get licensed, because if the FAA catches you slinging aerial photos without proper documentation, a hefty fee can ensue. Call me paranoid, but it's better to be safe than sorry.
How Does One Get An sUAS License?
In order to take the FAA drone test and get your license, you'll need to first find an accredited knowledge-testing center. Luckily, there are lots of testing centers across the United States so chances are good that there's one near you. Below, you'll find two ways to schedule your exam.
The Old Way Of Doing It:
Visit: https://www.faa.gov/training_testing/testing/media/test_centers.pdf
Call: (800) 947-4228 or (800) 211-2754
The New Way Of Doing It:
Visit: http://catstest.com
Call: (844) 704-1487
Note: these folks manage the booking for the 700+ testing centers across the United States.
How Much Does The Test Cost?
The cost of the exam is about $150 (for now). If you fail on your first try, you can retest for no additional charge 14 days later. If you fail again, you'll have to pay again.
Note: you'll need to bring a valid form of U.S. government identification that shows your photo, date of birth, current physical address, and signature when you go to get tested. Acceptable forms of identification include state issued I.D., driver's license, military identification card, residency card, and passport.
How To Study For The test / How Not To Study For The Test
Spoiler alert, I took a paid online course offered by Drone Pilot Ground School and it was worth every penny! Initially, I decided not to pay for anything as there are free FAA study guides online. I downloaded all the free material and then spent 40 bucks printing off hundreds of pages. After several long days of intense studying, I wanted to pull my hair out! The material was presented awfully! It came in stacks of densely packed, 10-point font. No pictures, not diagrams, nothing. It was dry, scattered, and confusing. Moreover, there was nobody to ask for help when I had questions. And I had LOTS of questions. As far as I'm concerned, I threw away $40 worth of paper and ink and killed a quarter of a tree for nothing. It was an epic fail.
If you'd like to explore the free option, I invite you to give it a shot. Here are the download links to the FAA's study guides:
The FAA part 107 drone test covers a plethora of subjects that I knew nothing about. Subjects like:
Sectional charts

Weather patterns

Safety procedures

FAA rules and regulations

Airspace operations

And much more.
Having failed at teaching myself, I decide to change my strategy and started looking for a specialty course online. A quick Google search helped me find Drone Pilot Ground School (DPGS). I explored other training programs too, but in my email communications with DPGS, I learned that they are very good at responding to messages and answering customer questions. This was the biggest selling point for me. I enrolled in the course and it was the right choice for me.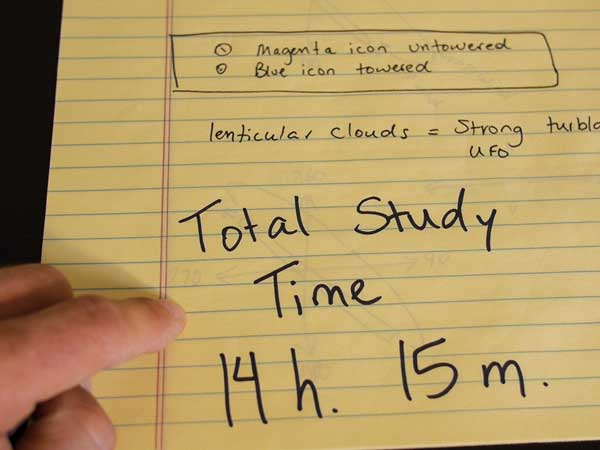 Over the next week I studied for a total of 14 hours and 15 minutes. I kept a meticulous record of my study time because I thought I might one day write a blog post that future pilots would benefit from.
Drone Pilot Ground School was a pleasant experience! The course is made up of easy to follow videos that you can cruise through all at once or spread out into chunks. As I already mentioned, I chose the second option.
Unlike the FAA study guides, I found DPGS course materials interesting. Because the information was presented in a colorful, animated, visually stimulating fashion, I was able to understand what I was learning and retain it. When I finished the online course, I drove over to my neighborhood FAA-approved testing center, took my pilot's exam and I passed with flying colors! I earned a 93 percent score, which means that out of 60 questions, I only got four wrong. Not bad for only studying a few hours a day over the span of a week!  
In addition to passing the test, I also became a better drone pilot. I now have a deeper understanding of aeronautics and aerospace as a whole and can fly drones more competently. This not only reflects positively on my business and on me, but on the entire drone industry. And this feels really, really good! I think that if you take pride in your profession, you generally want to strive to be as safe, skilled, and knowledgeable as possible in your perspective field.
How Much Does Drone Pilot Ground School Cost?
Drone Pilots Ground School costs $299 and is good for lifetime access!
Visit: www.dronepilotgroundschool.com 
Use discount code: SERGEI50 and get $50 off the total price.
Presently, drone pilots are required to renew their certification every two years, which means that you'll be able to study forever on one DPGS subscription.
More Test Taking Tips In Video Form
If you're finding all this information helpful, I suggest you also check out my YouTube video about the FAA part 107 drone test. In it, I give you more simple tips and tricks that can earn you easy points on the exam.
After Passing The Test, You'll Have Homework To Do
Just like many other government branches, the FAA is a bit disjointed and confusing. After you pass your FAA part 107 drone exam, you may think you're certified, but you're not, not yet anyway. First, you have to jump through some annoying, bureaucratic hoops. I messed up on a few of these steps, which delayed how fast my license was mailed to me. I want you to learn from my mistakes, so here is a no-bullshit checklist for you to follow:
Warning: this part sucks! You'll probably feel like you're doing everything wrong, but stick with it and your license should make it to you, eventually.
Step One: Once you pass the test, the next step is to register for an account with IACRA. Go to: https://iacra.faa.gov/IACRA/ and set up an account. Make sure you use the same email address that you used when you scheduled your knowledge test. You will then confirm your address and personal information.
Step Two: Eventually, while finishing your IACRA account, you will be prompted to enter your 17 digit Exam ID. You can find this 17 digit ID on your exam print out. The system should then be able to associate you with your test. In some cases it can take 72 hours for the system to update and find you. If you try building an IACRA account the same day you take your test and the system can't find you, wait a few days and try again.
Step Three: After you've successfully paired your test ID with IACRA you'll need to sign a few documents in order to complete your sUAS Pilot Application. Once done, you should get a temporary license within three to five business days.
Step Four: Then the waiting game begins… With more and more drone pilots surfacing everyday, the FAA is backlogged in processing ID's. It took me almost two months to get my plastic ID card. So sit back and enjoy the wait. It's a good idea to periodically check in with IACRA on your ID status. That way, if anything goes wrong, you can catch it sooner than later.
Step Five: Once the plastic card is in your hands, you can celebrate because you're totally legit now! Yahoooooooo!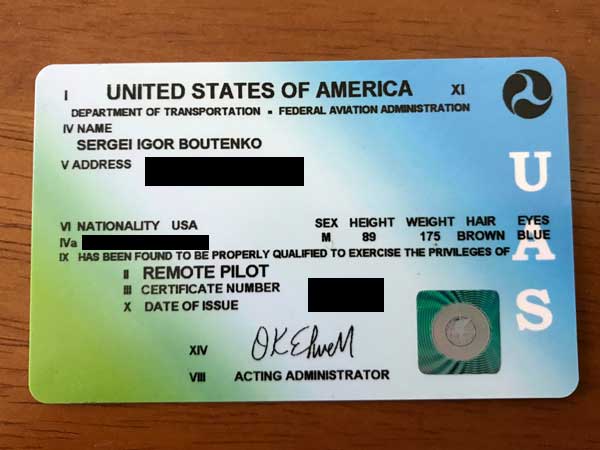 Update for 2020
Since the publication of my FAA drone test video and this blog post, Drone Pilot Ground School has implemented a few positive changes that are worth mentioning. First, DPGS is continuously updating their course to stay current with all incoming FAA regulation changes. This perpetually ensures that you're getting the most current info out of your study sessions. Secondly, Drone Pilot Ground School has extended their course access from five years to life. So, if you decide to spend your hard-earned cash on this course, you'll pay a one-time fee and get lifetime admission to the study guides. This means you'll be able to certify and recertify indefinitely on the same one-time course fee. Call me crazy, but this seems like a good investment of both money and time!
Additionally, I've discovered a new aerial cinematography class called "Drone Film Guide." I recently took the course, LOVED it, and learned a ton. Stay tuned for a big blog post regarding my experience. In the meantime, I have a new video to share, which outlines all the new DPGS updates and discusses my experience with Drone Film Guide.  
Update for 2021
PSA: On April 6, 2021 the FAA restructured how Part 107 drone pilots re-certify for their commercial sUAS license. Instead of going to a PSI testing center and paying money, you can now renew your license for free online! If you're up for re-certification (as we all are every 24 months), read my new blog post titled: "FAA Part 107 Drone Pilot Re-Certification | You Can do it Online for free!"