15 Oct
It's fall, which means it's elderberry season! There are many videos on the Internet about elderberries, but few that mention that you should be cautious when eating these fruits. Because of this, I decided to make my own video to set the record straight. Most wild food experts agree that elderberries are edible. However, it is commonly known that elderberries contain trace amounts of cyanide.  Cyanide, if ingested in large amounts, can lead to unpleasant side effects, such as stomachache, and vomiting. Blue elderberries (which I discuss in depth in my video) contain much less cyanide and are thus more suitable for consumption. Check out my new video before you go harvest elderberries: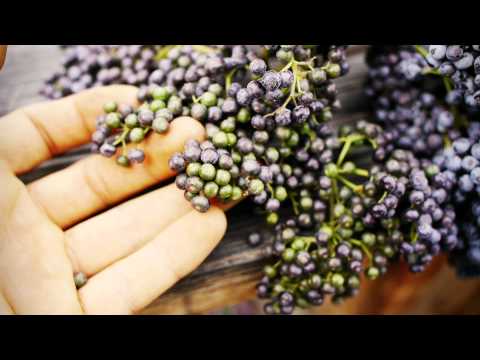 Why on earth would you want to eat berries with cyanide?  Well, elderberries are very nutritious. They are extremely high in antioxidants, vitamins and minerals and are a great pick-me-up during the cold winter months when store-bought food is expensive and not as fresh.  The fact that they are slightly toxic is not unique… Most foods, if eaten with reckless abandon will cause some unpleasant symptoms. For example, apples, cherries, peaches, and almonds also contain trace amounts of cyanide. But since we eat these foods in manageable amounts, and we have a liver and kidneys to help us eliminate toxins from our body, most of us will feel no ill effect from eating these foods form time to time.
(Click on chart to visit USDA website)
(Elderberries develop a white dust when ripe)
I have eaten elderberries many times and felt great. It is only when I decided to use them as a staple ingredients in my smoothies that I experienced my first stomachache followed by an urge to throw up. Since then, I have learned my lesson and only eat a little bit at a time. I have come to classify elderberries not as "edible," but as "MEDICINAL" for myself and eat them very sparingly. If you decide to experiment with this particular wild edible, I recommend that you do it slowly and patiently!
For more info on foraging download my wild edible iPhone app: http://itunes.apple.com/us/app/wild-edibles/id430951647?ls=1&mt=8
No iPhone? No problem! Use the web app version for free: http://sergeiboutenko.com/wildediblesapp/ (works on android phones)