Archive | October, 2012
23 Oct
Wild mustard is another common weed that's deserves some recognition… According to author and fellow forager, John Kallas, wild mustard greens are one of the most nutrient dense foods on the planet! These dark leafies are jam-packed-full of beta-carotene, calcium, fiber, zinc, and vitamins A, B, C, E, and K. They also have an exciting, spicy taste that works wonders in Asian cuisine. Have a peek at the following video. It will help you spot wild mustard!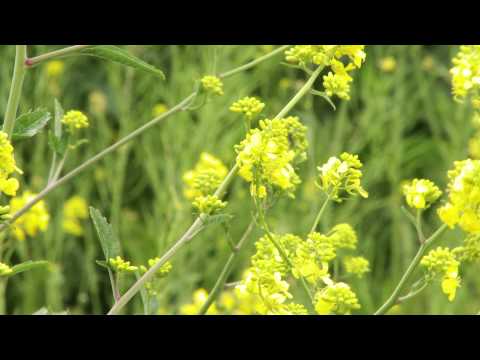 The mustard family is a HUGE family representing nearly 2,000 edible plants. Wild edibles, such as, pennycress, and shepherd's purse, are common varieties of the brassicaceae / mustard family. Common foods such as, cabbage, cauliflower, broccoli, kale, radish, and arugula are also members of the mustard family. Like kale, wild mustard is very hardy and can be found growing in near freezing temperatures. If you live in a cold, northern environment like I do, it can be very helpful to familiarize yourself with plants that thrive 9-10 months out of the year! The following recipe is from my upcoming book: "Wild Edibles: A Practical Guide to Foraging, with East Identification of 60 Edible Plants, and 67 Recipes." Look for it in store in May of 2013!
Sautéed Wild Greens  (Asian style)

3-5 cups of your favorite wild greens such as, chicory leaves, wild mustard, shepherd's purse, or lamb's quarters.
1/4 cup extra-virgin olive oil
4 large garlic cloves, finely chopped
1/4 fresh spicy pepper, finely chopped
small piece of fresh ginger, finely chopped
soy sauce to taste
Cook in a pot of boiling salted water until tender. Drain well. In separate pan heat oil over medium heat until it shimmers. Cook garlic, spicy pepper, and ginger for about 2 minutes or until golden. Stir as necessary. Stir occasionally until most of the liquid has evaporated, (3 to 5 minutes). Stir in desired amount of salt and/or soy sauce. Mix in bean sprouts for added texture (optional).
Serve with a fresh green salad or add to a wrap.
Serves 4-5
For more info on foraging download my wild edible iPhone app: http://itunes.apple.com/us/app/wild-edibles/id430951647?ls=1&mt=8
No iPhone? No problem! Use the web app version for free: http://sergeiboutenko.com/wildediblesapp/ (works on android phones)
15 Oct
It's fall, which means it's elderberry season! There are many videos on the Internet about elderberries, but few that mention that you should be cautious when eating these fruits. Because of this, I decided to make my own video to set the record straight. Most wild food experts agree that elderberries are edible. However, it is commonly known that elderberries contain trace amounts of cyanide.  Cyanide, if ingested in large amounts, can lead to unpleasant side effects, such as stomachache, and vomiting. Blue elderberries (which I discuss in depth in my video) contain much less cyanide and are thus more suitable for consumption. Check out my new video before you go harvest elderberries: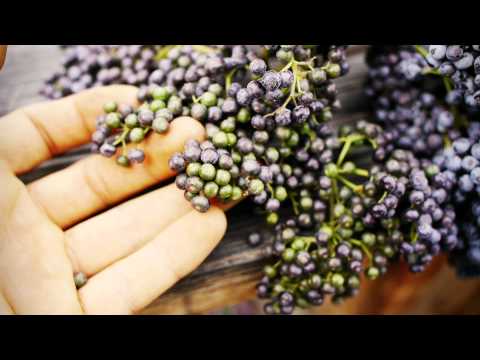 Why on earth would you want to eat berries with cyanide?  Well, elderberries are very nutritious. They are extremely high in antioxidants, vitamins and minerals and are a great pick-me-up during the cold winter months when store-bought food is expensive and not as fresh.  The fact that they are slightly toxic is not unique… Most foods, if eaten with reckless abandon will cause some unpleasant symptoms. For example, apples, cherries, peaches, and almonds also contain trace amounts of cyanide. But since we eat these foods in manageable amounts, and we have a liver and kidneys to help us eliminate toxins from our body, most of us will feel no ill effect from eating these foods form time to time.
(Click on chart to visit USDA website)
(Elderberries develop a white dust when ripe)
I have eaten elderberries many times and felt great. It is only when I decided to use them as a staple ingredients in my smoothies that I experienced my first stomachache followed by an urge to throw up. Since then, I have learned my lesson and only eat a little bit at a time. I have come to classify elderberries not as "edible," but as "MEDICINAL" for myself and eat them very sparingly. If you decide to experiment with this particular wild edible, I recommend that you do it slowly and patiently!
For more info on foraging download my wild edible iPhone app: http://itunes.apple.com/us/app/wild-edibles/id430951647?ls=1&mt=8
No iPhone? No problem! Use the web app version for free: http://sergeiboutenko.com/wildediblesapp/ (works on android phones)
4 Oct
Stinging nettles may have a scary name, but if you know how to properly process the plant, you'll never have to fear discomfort! Boiling, blending, or juicing nettles completely destroys the stingers and neutralizes the bite. There is some controversy over why this occurs. Some say, the stinging stops when nettle spines are crushed during processing. Others claim that nettles juice is responsible for neutralizing and counteracting the sting. Regardless of what you believe, nettles won't hurt you if you prepare it correctly.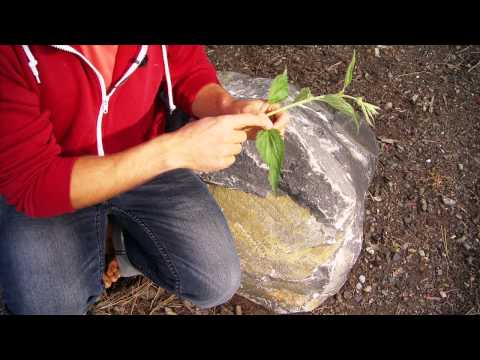 For those who have not had much experience with stinging nettles… Nettles are covered with brittle, hollow hairs that break off when you brushes against them. These hairs are filled with a mixture of three chemicals; a histamine which irritates the skin and causes a rash to break out, acetylcholine which causes a burning sensation, and serotonin, which enhances the effect of the two chemicals. As scary as this may sound, it is harmless! In fact, many cultures around the world use stinging nettles to increase oxygen and blood flow to certain areas of the body. For example, in Russia, the elderly are sometimes prescribed stinging nettles as a remedy for arthritis.
The best and easiest way to utilize nettles is in the form of a green smoothie.  To do this all you need to do is cut stinging nettle leaves into your blender container, add fruit, and blend. Another great way to eat nettles is to make a pesto out of it (recipe below). Steamed or sautéed nettle greens also make a great addition to Asian cuisine.
Stinging Nettle Pesto
1 bunch freshly harvested stinging nettles (as big or as little as you like)
1 cup pine nuts
½ cup sundried tomatoes
4-5 cloves garlic
2 tablespoons olive oil
2 tablespoons lemon juice
1 teaspoon salt (or salt to taste)
Blend all ingredients in food processor until thoroughly mixed. Serve with crackers, beads, and veggies.
FOR THE BRAVE:
If you feel adventurous, you can try eating nettles in its raw form. If you roll up the leaf in a tight roll, you will flatten all the spines and be able to eat it with getting stung.
Roll leaf from the side where it connects to the stem toward the pointy tip.
 Roll up the entire bottom of the leaf (that's the side the spikes are on).
When it's fully rolled, it's safe to eat!
For more info on foraging download my wild edible iPhone app: http://itunes.apple.com/us/app/wild-edibles/id430951647?ls=1&mt=8
No iPhone? No problem! Use the web app version for free: http://sergeiboutenko.com/wildediblesapp/ (works on android phones)